Cylinder Head Torque Specifications in a Honda XR 250 Motorcycle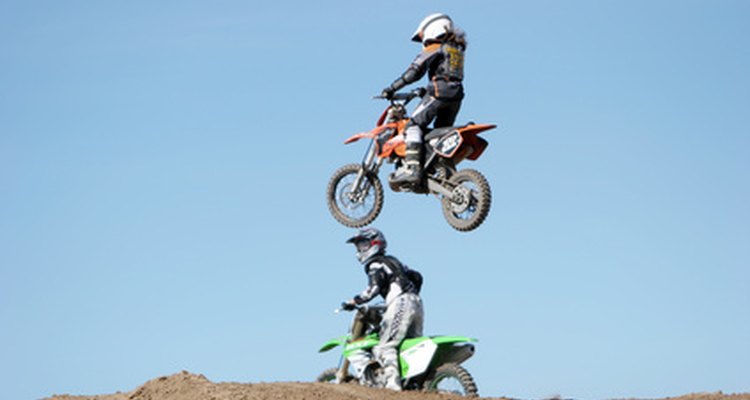 Honda introduced the mid-sized, four-stroke "play bike" to much fanfare in 1979. The Honda XR250R remained unchanged until 1996, when the bike received a beefier suspension and larger brakes on both the front and rear. Additionally, the transmission was updated for easier and more precise shifting.
The XR250R also received an improved kick-start mechanism that was similar in design to the larger XR600R.
Engine Specs
The XR250R is powered by an air-cooled, single-cylinder, four-stroke SOHC engine with a compression ratio of 10.2-to-1. The bore and stroke measure 2.87 by 2.34 inches, respectively.
Torque Values
The XR250R has six cylinder head bolts: four bolts are 10mm and two bolts are 6mm. The XR250R has 13 cylinder head cover bolts: 12 bolts are 6mm and one is 8mm. These bolts have different torque values according to diameter. The 10mm cylinder head bolts torque to 27 to 31 foot-pounds; the 6mm head bolt on the cover and cylinder torque to 7 to10 foot-pounds. The 8mm cylinder cover bolt torques to 15 to 20 foot-pounds.
The XR250R has six cylinder head bolts: four bolts are 10mm and two bolts are 6mm.
Fluid Capacities
Honda's XR250R has a fuel capacity of 2.38 gallons with a 0.53-gallon reserve capacity. The fork oil capacity is 535ml and the engine takes 1.7 quarts of oil.
Engine Changes
Tim Foxworth, senior technician at Seminole Power Sports in Sanford FL reports, "In 1996, Honda engineers made minor changes claiming higher torque and quicker response but the 249cc engine was virtually the same. They biggest change was the carburettor."
References
Resources
Writer Bio
Based near Orlando, Florida, Giovanni Badalamenti has been writing professionally since 2010. His articles on cooking, local restaurants, fantasy sports and attractions have appeared in various online publications. Badalamenti is currently enrolled at Seminole State College in Lake Mary, Florida, pursuing an Associate of Arts in nutrition.