Types of Exterior Shutter Hardware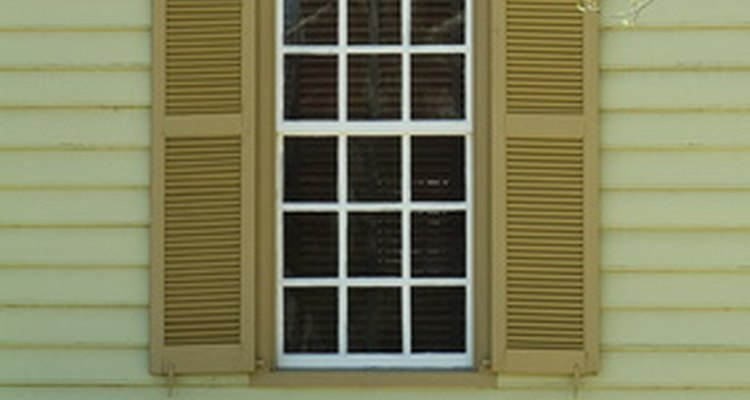 Before the general availability of glass window panes, exterior window shutters were the first line of defence against invaders, cold winter winds and summer heat. Today, shutters provide privacy for your home as well as some measure of protection from home invasion, extreme outdoor temperatures and severe weather.
Increase shutter functionality, longevity and decor by choosing the correct exterior shutter hardware for your application in a material that fits your needs, such as bronze, forged iron or stainless steel.
Shutter Caps
Fit shutter caps over the top of shutters to prevent water build-up and avoid moisture damage. Paint shutter caps to match the colour of the shutter or choose a decorative material such as copper.
Shutter Hinges and Pintles
Swing shutters open and closed with hinges mounted on pintles. Attach shutter hinges to the wall using a pintle. Use a lag-mount pintle for concrete, brick or stucco walls. Choose the hinge for your application, such as surface-mount, available as straight-strap, L-strap and plate type, or choose an edge mount hinge. Consider the type of hinge you need depending on the style of the shutter, how they mount, their size and weight, as well as your decor.
Swing shutters open and closed with hinges mounted on pintles.

Use a lag-mount pintle for concrete, brick or stucco walls.
Shutter Dogs
Shutter dogs hold shutters open and can be used for functional or non-functional shutters. Shutter dogs, also known as hold-opens, come in two types: stays or hooks and tie-backs that install vertically with the heavy end at the bottom. Use an anti-rattle clip to reduce shutter rattle in windy conditions.
Shutter Locks
Lock shutters closed with shutter locks or, if you have non-functional shutters, use them as decor to create a focal point on exterior shutters.
Bullet Catches
Secure open shutters with a bullet catch as well as a shutter dog. Also known as an acorn catch, a bullet catch consists of a bullet- or acorn-shaped catch mounted to the wall and secured inside a clip on the back of the shutter to hold shutters open. A bullet catch alone won't secure a shutter in high winds, but it works well as extra protection when used with shutter dogs.
Shutter Pull-Rings
Ease pulling shutters closed and improve exterior home decor with a shutter pull ring. Shutter pull-rings resemble door knockers and attach on the shutter face to provide a hand-hold when pulling the shutter closed from inside.
Shutter Pushrods
Use shutter pushrods on a Bahama-style shutter with the hinge located at the shutter top and the lock at the bottom. Mount one pushrod end at the window casement and the other at the shutter. Use two pushrods per window to push the shutter open at the bottom, and lock it in place with a thumbscrew on the pushrods.
References
Resources
Writer Bio
Ben Sellars has been writing for his personal website for two years and eHow for one year. He is currently working to grow as a freelance writer and achieve a higher standard of writing with Demand Studios.