The History of Venetian Blinds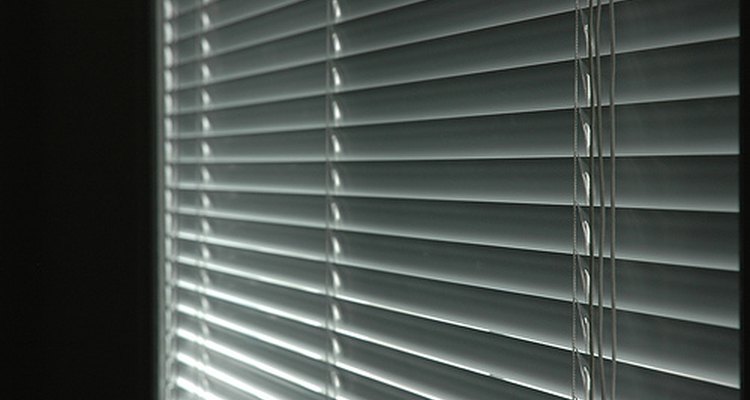 Creative Commons/blueskiessmiling77
Venetian blinds may have originated in Persia, not the canal city of Venice, Italy. Or, they may date all the way back to ancient Egypt. Wherever their birthplace, the Venetian blinds have served as decorative alternatives to curtains for nearly three centuries.
They have undergone some style updates through the years--most notably the creation of the mini blind--but the basic concept of an adjustable array of horizontal slats remains unchanged.
Origins
Slatted blinds have existed for centuries. Ancient Eqyptians made blinds from reeds, while the Chinese used strips of bamboo. The true story of Venetian blinds' invention is unknown, but most experts date the first examples from around 1760. Early Venetian blinds were made of 2-inch wood slats suspended along cloth ribbons.
Slatted blinds have existed for centuries.

Early Venetian blinds were made of 2-inch wood slats suspended along cloth ribbons.
Legend
One legend says that early Venetian traders brought the shades home from Persia. Then, in the late 1700s, freed Venetian slaves who settled in France introduced the shades there. In France, Venetian blinds are known as "les persienes."
Effects
Venetian blinds quickly gained popularity both in homes and public buildings. St. Peter's Church in Philadelphia covered its windows with Venetian blinds in 1761, and illustrations of Independence Hall also show Venetian blinds. The RCA Building (today the GE Building) in New York City became the first large commercial building in the United States to use Venetian blinds after it opened in the early 1930s.
Popularity
Venetian blinds reached peak popularity in the United States in the 1930s. In 1936, manufacturers in New York put £136 million worth of the shades on the market. The blinds were made of wood or metal in a wide range of colours and used in homes and businesses.
Innovations
John Hampson of New Orleans gets credit for inventing or patenting a device to change the angle of a Venetian blinds' slats that continues in use today. That device is usually a plastic rod near the top of the blind.
Types
Hunter Douglas was the first company to develop a light, aluminium Venetian blind in 1946. The mini blind, featuring a one-inch slat, came on the market in the 1960s, followed in the 1990s by the half-inch micro blind. Today, two-inch wood blinds have regained popularity.
References
Resources
Writer Bio
Cameron Delaney is a freelance writer for trade journals and websites and an editor of nonfiction books. As a journalist, Delaney worked for wire services, newspapers and magazines for more than 20 years. Delaney's degrees include a bachelor's degree in journalism from Pennsylvania State and a master's degree in liberal arts from University of Denver.