The Difference Between a Table & Desk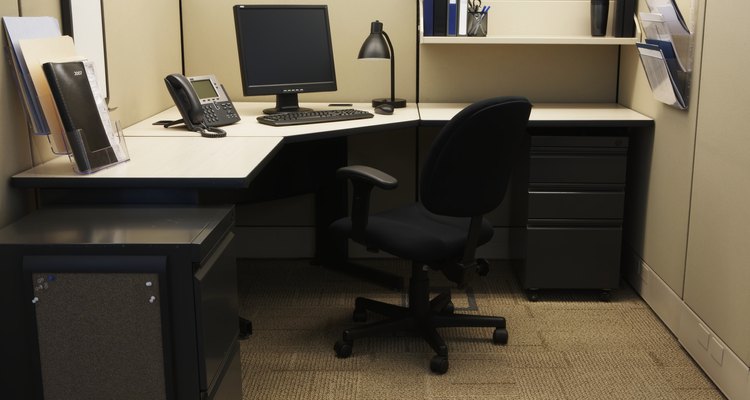 Thomas Northcut/Digital Vision/Getty Images
A table and a desk are two very different pieces of furniture. Despite occasional similarities in design and the possible overlap in shape, size, usage or material, both have evolved so extensively that an example of one may be completely different in every way from an example of the other.
The many ways in which each item is used is matched only by the multiple designs of each that is available.
Functionality
The biggest difference between a table and a desk is in the functionality of the furniture. The primary purpose of a desk is for work, whatever type of desk it is. The function of a table, however, is usually either domestic or leisure and very often involves the making, serving or consuming of food. In a few cases, such as arts and crafts, tables are used for work. In some industries such as carpentry, a sturdy worktable is referred to as a "bench."
The biggest difference between a table and a desk is in the functionality of the furniture.

The primary purpose of a desk is for work, whatever type of desk it is.
Characteristics
A desk is usually only used by one person at time, while two or more people often use a table together. A table is generally flat-topped and has no accessories. A desk usually has one or more drawers, and possibly a bookshelf or credenza, which is a type of cupboard that forms part of the structure.
Kitchen Tables
The traditional table design of four legs and a flat-topped surface has been adapted to a multitude of purposes over the centuries. Kitchen tables come in all shapes and sizes and have a time-honoured place in the homes of Americans. This is where breakfasts are eaten, dinners are prepared, homework is done, and friends linger over milk and cookies.
Living and Dining Room Tables
In the living room, tables are everywhere -- coffee tables with books on display, occasional tables for guests to rest their drinks, and side tables where ornaments stand on display. In the dining room the focal point of the room is the dinner table, which may be a magnificent affair carved from precious wood and accessorised with chairs sporting luxurious upholstery.
Office Desks
Desks have been used for centuries for writing, and antique writing desks are fitted with a variety of intriguing "nooks and crannies" in which to store paper, envelopes, pens and stamps. Modern desks are a little less elaborate, and the basic school desk is one all schoolchildren know well. Reception desks in office environments are often quite complex to accommodate the needs of the administrative staff.
Computer Desks
The most familiar modern desk is the computer desk, with its numerous work surfaces, each of which is intended for a different purpose. Computer desks commonly have several work surfaces to accommodate the computer's central processing unit, the monitor, keyboard and mouse, and a printer or scanner.
References
Writer Bio
Tracey Sandilands has written professionally since 1990, covering business, home ownership and pets. She holds a professional business management qualification, a bachelor's degree in communications and a diploma in public relations and journalism. Sandilands is the former editor of an international property news portal and an experienced dog breeder and trainer.