How to identify markings on antique pewter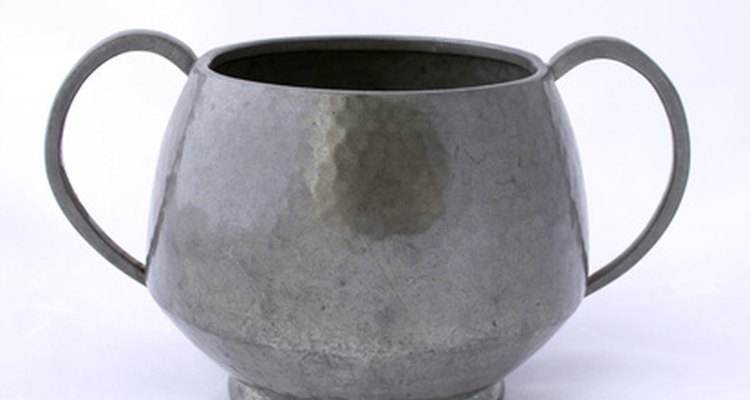 pewter sugar bowl image by hazel proudlove from Fotolia.com
An alloy of tin and copper or lead, pewter was a staple of domestic wares for five centuries--from the 1300s until the 1830s.
Use for everything from tankards and cutlery to candlesticks, it went out of fashion with the introduction of mechanised silver-plating, only to be revived by the handicraft-oriented Arts and Crafts and Art Nouveau movements of the last quarter of the 19th century. Most antique pewter bears some kind of marking, but this will vary with its age.
An alloy of tin and copper or lead, pewter was a staple of domestic wares for five centuries--from the 1300s until the 1830s.
Examine the outer rim of very old pewter plates and the handles of old ale-pots and tankards. Look for impressed initials -- the "touch mark" or stamp of a registered pewterer. Crude initially, then becoming more elaborate over time, these markings appeared on antique pewter from the 1500s until the 1820s.
Scour the base for other markings. On early pieces you might find an X or the word "superfine"--both indications of best quality pewter. A rose and crown is a mark that appears on English export wares in the 1700s. In the 19th century, items used as measures were given a date code and a variety of regional emblems, for example a thistle for Scotland.
Check for a maker's mark on later pieces, especially those with a strong, commercial design. In particular, look for the names Liberty's and W.M.F. Under the Tudric brand-name, the London store Liberty's produced stylish pewter in the Arts and Crafts manner. These pieces are stamped with the store and brand names and sometimes the words "English Pewter." The renowned Art Nouveau creations of W.M.F. bear the German firm's initials or sometimes a running ostrich inside a diamond.
References
"Glass and Metalware," Tony Curtis, 1992
"Pewter," Tony Curtis, 1982
Tips
Largely designed by Archibald Knox, Liberty's pewter was distinguished by its hand-planished (that is, hand-hammered) finish--an effect actually produced by machine--and by its use of coloured enamels. W.M.F. specialised in whiplash lines and the nude or seminude female form.
Warnings
As well as Tudric pewter, Liberty's also sold a range of silverware under the brand-name Cymric. Don't confuse the two, because Cymric is rather more valuable than Tudric.
While early pewter and the products of Liberty's, W.M.F. and the like are highly collectable, most of the antique pewter which falls between doesn't have much pull in the auction houses.
Writer Bio
Based in the United Kingdom, Graham Rix has been writing on the arts, antiquing and other enthusiasms since 1987. He has been published in "The Observer" and "Cosmopolitan." Rix holds a Master of Arts degree in English from Magdalen College, Oxford.