Alternatives to a Cricut Marker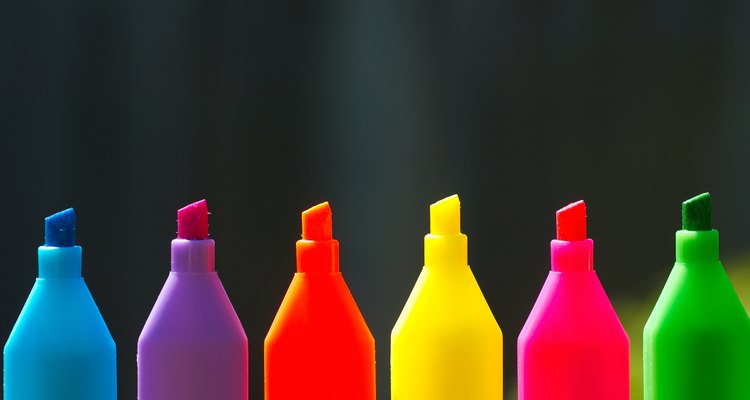 Jupiterimages/Photos.com/Getty Images
Cricut markers are cartridges that you can fit into your Cricut machine in place of the cutting blade. As a result, your image will end up being drawn on the paper as opposed to cut out.
There are alternative options that can be used in the same way that are less expensive than Cricut markers and are available in many more colours.
Cricut markers are cartridges that you can fit into your Cricut machine in place of the cutting blade.
Crayola Markers
Crayola markers work well as an alternative to the Cricut markers and they are far less expensive. Pip-Squeaks work very well because they are shorter than most markers and allow for the lid of the Cricut to be closed. If you use regular-sized markers, it may be necessary to keep the lid open.
Gel pens
Gel pens work well in the Cricut machine and come in a variety of colours and styles including glitter, neon and metallic. If the pen is too thin to be held properly in the blade house, place a pen or pencil grip over it and attach it that way. You can purchase grips made of soft foam or gel at most stationery stores.
Sharpie
Sharpie pens work well and, as with the Crayola, mini Sharpies are the ideal height to fit into the Cricut. Sharpie also makes a water-based paint marker that is appropriate for use in scrapbooks and cards. The paint marker will create a unique dimensional effect for your picture.
Things to Keep in Mind
If using the images for scrapbooking or cardmaking purposes, be sure that the markers you use are acid and lignin free. This will prevent the disintegration and discolouration of the pictures. If you plan to create a design using more than one colour, be sure to let the first colour dry completely before running it through the machine again.
Writer Bio
Lindsey Salloway started writing professionally in 2005. She has worked for various publications including the "Calgary Sun," "Calgary Journal" and "Penticton Western News." She also completed major journalism projects for various organizations such as the Foothills Country Hospice. Salloway holds a Bachelor of Communications in journalism from Mount Royal University.